Hospital Management Research (Aica Kogyo) Endowed Chair
Hospital Management Research (Aica Kogyo) Endowed Chair
Period offered
October 1, 2017 to March 31, 2020
Collaborative Research Companies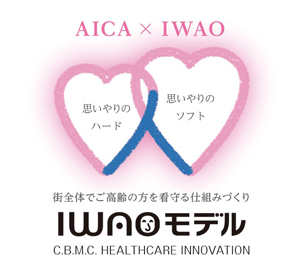 Aica Kogyo Co., Ltd.
Overview
Japan is becoming a super-aging society and is confronting many challenges; it must transition from a conventional medical model to one focused on lifestyle.
This course aims to realize a community-based medicine and care healthcare innovation IWAO model (a mechanism that safely and securely safeguards the elderly, disabled, and children with significant healthcare needs in a municipality), which is necessary, as the average length of stay in the hospital has shortened since the fiscal year 2018. In this course, we will conduct action research on the ground using a consortium, as society progresses towards Industry 4.0.
Development of healthcare management human resources
This course will provide training courses for young employees, including motivated professionals, that will offer opportunities for them to learn aspects of business operation and management to improve their ability to resolve issues and train social entrepreneurs to produce a workforce that is immediately available. We will foster social entrepreneurs who are oriented toward a general lifestyle trading company with a growth strategy that consists of safeguarding lifestyle as a whole and maintains a focus on health care as its hub, and will promote healthcare innovation to the extent possible to enable Japan to lead the world in this regard.