Faculty
Business Administration Chairs
Adjunct Professor
Makoto USUI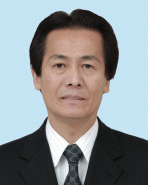 【Specialized Fields】

Service Innovation, Management of Technology, Practical Use of IT
【Subjects】

Supply & Demand Chain Management, Practical Use of IT for Value Co-Creation, and others.
【Background】

Graduated from the Doshisha University Faculty of Engineering in 1978. Worked for Seven-Eleven Japan Co. and after serving as Executive Director of the System Division, became Executive Vice President at Future Architect, Inc. in 2004. Became President at Opinion Inc. in 2011. Concurrently Professor at the Shibaura Institute of Technology Graduate School of Engineering Management from 2009 untill Mar. 2014.
【Publications】

Seven-Eleven style Condition of Service Innovation, Nikkei BP, 2009; and others.
【Message】

Due to the rapid development of digital economics and the spread of the service industry, the actors and methods of value formation are changing dramatically. Let's learn about the consumer-based value co-creation business model and business process design, using concrete examples from the distribution, retail, manufacturing, and healthcare industries. Also, you will be able to learn about the practical uses of IT technology and new solution models that transcend business categories.