Faculty
Center for Research in Business Administration
Adjunct Professor
Norio MASUDA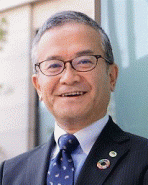 Finance and Accounting Program
【Specialized Fields】

Sustainability strategy (incorporation and implementation of sustainability perspectives into management and business strategies, ESG information disclosure measures, visualization of correlation between non-financial and financial data, etc.)
【Background】

Graduated from Osaka Prefecture University, and joined Hitachi, Ltd. As General Manager of Planning Department, Sustainability Promotion Division, engaged in building the Hitachi Group's sustainability strategy. (FY2017-FY2019) Co-Chairman of ESG Disclosure Study Group from 2020.
【Publications】

"Hitachi, Ltd. in Practice: Value Creation in Collaboration with Stakeholders Inside and Outside the Company," Corporate Accounting, September 2020
"Sustainability and Corporate Disclosure," Business Finance, March 15, 2021, and many other lectures.
【Message】

In addition to Hitachi, Ltd., I am also involved in discussions on sustainable management and ESG information disclosure at the ESG Disclosure Study Group, which is attended by more than 100 business companies (issuers) and institutional investors. I would like to share with you my experiences in practice as well as theory.