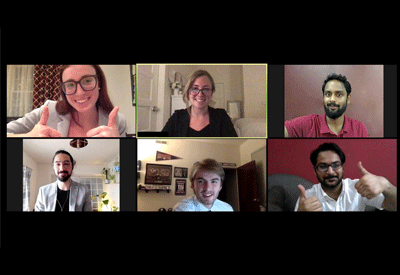 The Negotiation Challenge 2020 (TNC-2020) was held from April 2nd to April 19th, 2020 via online videoconference due to the COVID-19 pandemic. This international competition is hosted by a different university every year and Kyoto University hosted the event in 2019. This year, three MBA students; Dinesh Kumar, Esteban Aceituno Valera, and Haissam Khan from GSM represented Kyoto University participated in this event organized by EADA Business School in Barcelona.

Established in 2007, TNC gathers passionate negotiators from leading universities to compete against each other in realistic negotiation simulations to reach an agreement on business or governmental disputes and business problems while assuming leadership roles in those organizations such as corporate executive officers or city council authorities. Professor Will Baber of GSM has shown his leadership throughout the event_report.

This year, 18 teams from top Business and Law international schools competed in TNC. Over the course of five rounds, Team Kyoto negotiated with: Harvard Law School (USA), ESMT Berlin (Germany), University of Connecticut (USA), University of Twente (Netherlands), and Universidad de Los Andes (Colombia). Team Kyoto put its name on the winners´ chart in round 4, and finished at 8th place in the overall competition. As a closing remark, the members described TNC as a fun-filled yet very competitive event which provided a unique learning experience.
More Details: PDF Download