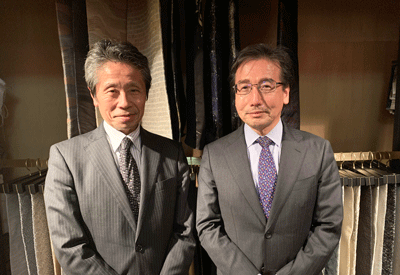 On November 12, we had a special lecture "Sustainable hospitality management based on tradition and innovation" by Mr. Masao Hosoo, Chairman of HOSOO Co., Ltd.

This lecture was operated by a live-streaming from the atelier of Hosoo located Nishijin area, which is famous for Nishijin textile for hundreds of years in Kyoto. Mr. Hosoo talked about the history of the company which was founded about 350 years ago in Kyoto, its philosophy, collaboration with different organizations, multi-stake holder management, etc.

In this lecture, Mr. Hosoo discussed how they survive and sustain their business in the context of "Tradition and Innovation". An important insight is successful companies are aware of the distinction between what should be changed and what should not be changed. The lecture ended on a high note.
Please refer to the website for more information regarding Innovative Hospitality Management and KC-CDO (Kyoto-Cornell International Collaborative Degree Opportunity)
https://www.ih.gsm.kyoto-u.ac.jp/course/