Faculty
Integrated Port Logistics Chair
Adjunct Associate Professor
Junya IIDA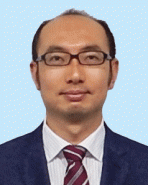 【Specialized Fields】

Port Logistics, Supply Chain Management, System Linkage
【Background】

M. Eng. from Osaka University. Dr. Eng. from Tokyo University of Marine Science and Technology. Ministry of Land, Infrastructure, Transport and Tourism, National Police Agency, National Institute for Land and Infrastructure Management, Waterfront Vitalization and Environment Research Foundation.
【Publications】

Sharing Procedure Status Information on Ocean Containers across Countries Using Port Community Systems with Decentralized Architecture (Joint authorship), Asian Transport Studies, Volume 5 Issue 4, pp.694-719, 2019.
On Introducing Electronic Information Systems for Port Administrative Procedures in Developing Countries (Joint authorship), annual Conference of the IAME, 2017. etc.
【Message】

Regarding port logistics, there are many stakeholders such as port authority, coast guard, customs, immigration, quarantine, carrier, ship agency, freight forwarder, container terminal operator etc. The smooth communication between them is a key point for trade facilitation. I would like to conduct research on how to utilize information technology to make communication smoothly between the stakeholders.