Mert CELIKKANAT
International Project Management Program (i-PM) : M1 2019-2020
The Reason Why You Chose GSM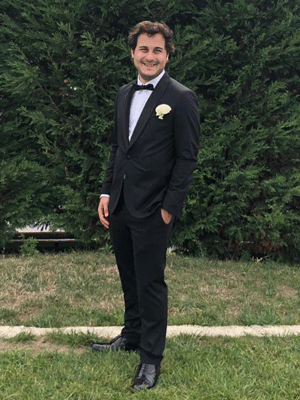 I was a Civil Engineer who had graduated recently. As I held my Engineering background where I honed my hard-skills, I wanted improve my soft-skills. For that purpose, in my journey to find what I lacked, GSM offered me a course where I found everything I needed. From Marketing to Finance, Management to Negotiations I was able to improve myself in diverse areas. Carrying the prestigious name of Kyoto University, extensive learning program and great diversity of people, where I was able to find friends from different continents in one classroom, were some of the many key points of my decision
What is the attractiveness of GSM?
As I pointed out above GSM is a complete set of courses, people, professors and classmates that offer huge variety of information and various opinions that provide new ways to improve every day. I had chances to learn from people that gave lectures all around the world, take classes from wide range of topics, listen to people who had come to visit Kyoto from thousands of miles away, and discussed my opinions with my classmates where we had no more than one person from one country. I truly believe that this mosaic makes KU-GSM stand out among the other MBA programs.
The Visions of Your Future
My aim in the beginning was to improve my skill set and get a strong background on education. However, as a result of experiencing exceptional frame of education in GSM, I also saw that there are countless of possibilities to grow in a multi-national environment . Therefore, I aim for working in a multi-national organizations/companies that work on projects where countless people benefit from various countries across the world.
Your Recommended Subjects
Strategic Management (Asli Colpan) The lecture provides methodical information about how companies make decisions to manage now and the future of the company, and context is given through various real cases around the world. Business Negotiation (William Baber) The lecture was all about how to approach and act with counterparty(s) in order to create a solution. The aspect which made this lecture unique was hands-on learning with different scenarios where students had to complete numerous negotiations with each other.
Schedule of Your Day
07:30 – 08:30 Morning commute
08:45 – 18:00 Classes, Lunch time and free study time
18:00 – 20:00 Study time with classmates for various classes
20:00 – 24:00 Relaxing, returning home
Message for Applicants
GSM is a dynamic and ever-growing environment with people that have spirit full of creativity and energy come together with those that have years of experience and knowledge. I would say that I believe GSM is a place to create unique network of friends from diverse backgrounds, make amazing memories with magnificent city of Kyoto in background and develop as a person of World. Never hesitate to open up, talk, discuss and improve your ideas. I know that the fabric of GSM knitted by its faculty members, students and everyone involved would welcome any idea you have that creates value to our lives and support any passion you have in your heart.