The Graduate School of Management (GSM) has established an academic cooperation and exchange agreement with Indian Institute of Management Bangalore on August 10, 2017. The agreement was signed by the GSM Dean Yasunaga Wakabayashi and Dr. Sourav Mukherji, Professor & Dean (Programmes) of IIM-B.

Indian Institute of Management (IIMs) is the overall name of the National University of 20 schools located in various parts of India.
Among them, IIM-B is one of the top universities in India and well known as a business school that is leading the way in internationalization strategies.The height of the research level of the university has also been internationally recognized.
The agreement was initiated by Dr. Gautam Ray, ABL chair Professor & Professor of International Project Management of the GSM Faculty and Professor G Raghuram, Director of IIM-B, aiming improvement of education and research level of both universities.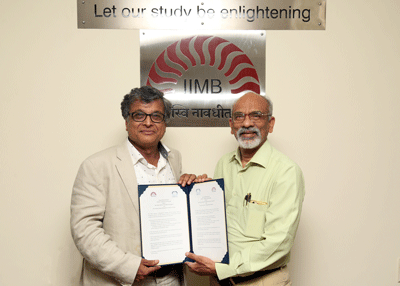 ◆Prof.Gautam Ray and Prof.G Raghuram