Faculty
National Land Management
Adjunct Professor
Katsumi SEKI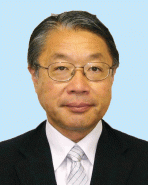 【Specialized Fields】

Civil Engineering
【Subjects】

Social Capital for Regional Development
【Background】

Graduated from the Kyoto University Faculty and Graduate School of Engineering. After entering the Ministry of Construction (currently MLIT), served as the Director of the General Policy Bureau Construction Planning Division, Director of the River Bureau flood control Division, Councilor of the Geospatial Information Authority of Japan, Minister's Secretariat Councilor of Technology, Director General of the Hokkaido Development Bureau, Director General of the River Bureau, and Director General of the Water and Disaster Management Bureau, and currently President of The River Foundation and Advisor to the Reconstruction ency and Ministry of the Environment.
【Publications】

Rivers – Thinking of Tomorrow's Water Environment and Culture of Japan (joint authorship), Sankaido, 1994; and others.
【Message】

Let's think about social capital improvement and changes that affect our nation, such as global environment issues or responses to large disasters. My lectures will cover river maintenance and management, and ways of thinking about public policy or disaster management through the study of actual cases.