Faculty
Honorary Faculty
Adjunct Professor
Sachiko KUNO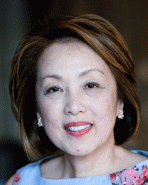 【Specialized Fields】

Drug Discovery, Entrepreneurship, Social Entrepreneurial Ecosystem, Global Leadership Development
【Subjects】

Cases on Social Innovation
【Background】

Ph.D. in Biochemical engineering Kyoto University
International Business Management, Georgetown University
Co-Founder, R-Tech Ueno, Ltd.
Co-Founder, Sucampo Pharmaceuticals, Inc.
Co-Founder, VLP Therapeutics, LLC
Co-Founder, President and CEO, S&R Foundation
Founder and Chair Emeritus, Halcyon
Co-Founder and Executive Director, Phoenixi Co., Ltd.
【Message】

In recent years, I think the ability to solve global issues has weakened partially due to the change in the global political environment. In such a time, I think it is critical to develop social entrepreneurs who try to achieve both profit and social impact. I will invite lecturers from overseas who are actively practicing in the forefront of such social entrepreneurship, so please participate as a chance to hone up the ability to solve problems.