Faculty
Mizuho Securities Endowment (Corporate Finance & Capital Markets)
Adjunct Professor
Nobuo SAYAMA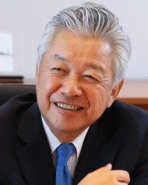 【Specialized Fields】

M&A, Buyout, Management, Bankruptcy
【Subjects】

M&A Practice Theory
【Background】

Graduated from Rakusei High School and the Kyoto University Faculty of Engineering Polymer Chemistry Department in 1976 (Yasunori Nishijima Laboratory). Worked at Teijin in polyester polymerization, Mitsui Bank in M&A businesses from 1987, jointly established Unison Capital in 1998, GCA in 2004, Integral in 2007 and chairman of Skymark in 2015. Received MBA from New York University in 1994, graduated from Tokyo Institute of Technology Graduate School of Decision Science and Technology (PhD) in 1999. Professor of Hitotsubashi University Graduate School of International Corporate Strategy since 2004 and Visiting Professor of Hitotsubashi University School of Business and Administration since 2018.
【Publications】

Buy out, Capacity of the CEO, Value of the CEO, Buy out (Nikkei Shinbun); and Never Retire (Shinchosha) and others.
【Message】

For more than 30 years since 1987 I have been working in the M&A and buy out business. Based on that experience, I will communicate to students about the whole process of M&A and the enhancement of corporate value through M&A so that they will comprehend the significance of M&A in actual business contexts.