Faculty
Brain Healthcare Business Ecosystem
Adjunct Professor
Maya OKAMOTO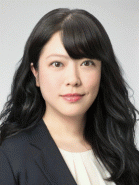 【Specialized Fields】

STI Policy, Science Communication (ELSI and Public Relations), Public Health
【Background】

PhD in Kobe University Graduate School of Medicine and completed a Citation Program in Ecological Management in Harvard Extension School. Experienced of ELSI study in academia, government, and private sector (think-tank and consulting firm). Director, Center for Public Health, Pharmacological Evaluation Institute of Japan (PEIJ) from 2015.
【Publications】

Malnutrition in the 21st Century(Nova Science Pub Inc., USA)
The awareness of students and their guardians about their main source of scientific and technological information and its reliability: using the topic of the Nobel Prize won by Japanese researchers in 2015 (NISTEP, MEXT, GoJ)

【Message】

Emerging science and technology can enrich our lives, but it also has the potential to bring about unexpected changes. In order for science and technology to be implemented in society in good harmony with people and society, it is necessary to consider ELSI, such as what both the development side and the implementation side must pay attention to, and how to take care of the general public.