Kaoru KAMO
Class of 2018, Project Operations Management Program
General Manager, Pharmacy Support Division, Pharmaceutical Study Course, Incorporated Educational Institution Igaku Academy (= a medical science academy) Member of the Board of Directors, Yakuzemi Information Educational Centre, Inc. Vice President, Incorporated Educational Institution Chuoh Iryou Gakuen, Vocational College of Chuoh Iryou Gakuen
The Reason Why You Chose GSM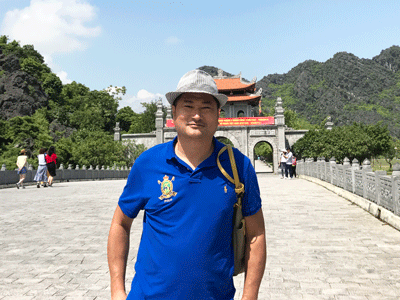 It so happened that one of my former colleagues in a company run by my previous employer was a graduate of GSM. In private conversation with that person, I admitted that I wanted to work for a project to develop the Amakusa region in western Kumamoto, Kyushu. I was informed that Prof. K. Kobayashi of GSM, Kyoto Univ., was engaged in a community development project in Amakusa. I immediately decided to apply for GSM, aiming to get involved with Prof. Kobayashi's activities. In my decision- making process, I never thought about other options such as other graduate schools. In those days, population decrease had become an increasingly alarming issue in Amakusa, where people were facing a serious decay of healthcare services in the local community. I earnestly hoped to make some contribution to resolving the problem, revitalising the local community. After joining GSM, I participated in a workshop in Year 2, visiting Amakusa, where, under Prof. Kobayashi's guidance, I carried out a field survey, conducting hearings from medical institutes as well as elderly local citizens. Based on those interviews and fact-finding, I prepared and distributed a proposal to the local associations of pharmacists and care givers, who were taking care of the elderly, disabled and/or significantly ill. I became aware that, although I was in a senior management position in a business, I had not learned about management systematically. I realised that there was a gap in my knowledge and expertise, and became fully committed to learning the fundamentals of management at GSM.
What You Learned at GSM
In fact, when I enrolled at GSM, more than 20 years had passed since my graduation from the pharmaceutical department of my university. After working as a businessman with very limited contact with any academic institution for many years, I became a part time student learning multiple compulsory subjects, doing homework and preparing for exams. All those efforts were truly valuable and rewarding. They enabled me to shed new light on daily assignments in my company, helping me to understand the core of business operations. I realised that, while I might have had basic knowledge of company activities, I might not have fully grasped how they were related to each other in the total landscape of a business. While continuing my job in the company, I tried to squeeze in as much spare time as possible between assignments, so that I could study a broad range of subjects in the curriculum, mastering specialised subjects as well as fundamental skills. I became almost obsessed with the idea of how specific classes could influence my job, or how useful and effective the curriculum would be in my future activities. I pursued the "shortest cut to the application of my learnings in the real world". I am pleased to have achieved that goal. On the other hand, however, I regret that I missed many other subjects, which would have been useful, because of shortage of time. I was still working at my company while attending the course. I wish I had had more free time to work as a GSM student.
The Reason Why You Chose Your Career Plan
At the end of my first year at GSM, I resigned from the company I was then working for, which ran a large network of dispensing pharmacies. I obtained a new post offered by another company, which operated a nationwide network of preparatory schools for university students learning pharmaceutical studies, helping them to pass the national examination to become qualified pharmacists. After joining this company, I launched a new business division to support the operation of small and medium size dispensing pharmacies. In the process of planning and implementing the new project, what I had learned at GSM was of tremendous support and advantage to me. In addition to my knowledge of managing pharmacy businesses, which I had gained in my previous career, what I had learned at GSM provided a business model to support pharmacy operations with strength and credibility, successfully winning customers' trust and confidence. Since my current employer acquired a failing business running a vocational school to train and develop Judo therapists and acupuncturists, I am presently engaged in the rehabilitation process of that business as well. As a matter of fact, in my previous career I had experienced many M&As. As for an M&A of vocational schools, however, I had no experience. Currently, I am tackling many so-called PMI (post-merger integration) issues in the company, through a process to which I can apply the knowledge and expertise I learned at GSM, trying to work out the best solutions. While there is still a long way to go before completing the PMI to our satisfaction, I have already witnessed some positive outcomes deriving from my experience at GSM.
What Impressed You About GSM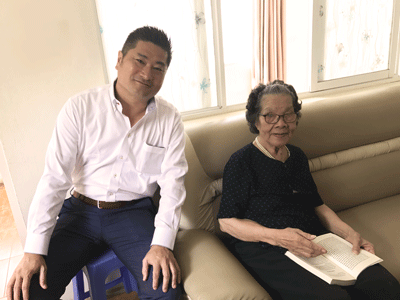 During the summer of my first year at GSM, I visited Vietnam, where I participated in the Overseas Project Management Seminar. I was deeply impressed with the significant contribution made by GSM for the development of Vietnam. It was my first visit to that country. During my stay, I participated in a training course hosted by the University of Transport and Communications (UTCC) in Hanoi. I also came to appreciate the culture, traditions and people's hospitality in Vietnam. What shocked me enormously, however, was that the healthcare system was very insufficient and that there was an urgent need to establish a care-giving system for those who were elderly, ill or otherwise vulnerable. Despite all these problems, there had been a little progress in such social undertakings. In order to further clarify the agenda, I participated in the seminar again in the following year. I extended my stay in Vietnam after the seminar, conducting a field survey including several visits to medical institutes and nursing homes. I conducted interviews with health care providers (HCPs) as well as care givers. The data and information I gathered through the field survey was the basis of my WS II presentation, which was granted the Best WS Award. In fact, this Award marks the most memorable and gratifying experience in my student life at GSM. I am planning to continue my involvement in the healthcare as well as care-giving issues in Vietnam through academic societies and agencies. Currently I am working at an educational institution operating vocational schools. In this context, I can capitalize on various resources available in our organization to develop the capabilities of people who will work as care givers in the future to help those in need.
Extracurricular Activities You Have Done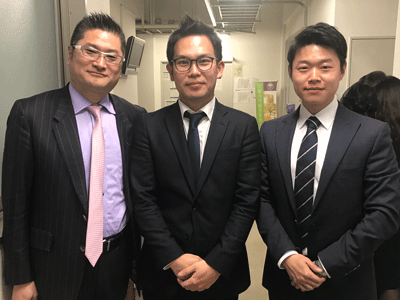 I believe that my greatest accomplishment outside academic work was that I could broaden my human network. Enrolled in the course were people in various age brackets and with different backgrounds. There were students as young as my son, many non-Japanese nationals and those from diverse walks of life. In particular I became close friends with Korean students, whom I met for the first time at the screening interview. When my first year ended, I visited Korea, and they kindly showed me around many places. As I mentioned before, after joining my present company, I launched a new business division, an undertaking which required a core team member to support me. I was fortunate enough to find a female student at GSM, reliable and competent, who shared my vision. She joined my company, and currently she is working in the new project as an excellent business partner. These episodes truly represent the greatest achievements of my experiences at GSM apart from the academic work itself. When the second half of Year 2 ended, I visited Myanmar together with several good friends I had made at GSM. That trip was our "graduation celebration". In Myanmar, we were introduced by a GSM student to a local entrepreneur running a microfinance business. We were thus given a chance to visit an actual microfinance operation site. Without being enrolled in GSM, I would never have had such an opportunity.
Message for Prospective Students
I am enormously satisfied with all my experiences at GSM from entering the course to its completion. It gave me so much more than I had originally expected. My initial goal was to get involved in Amakusa, Kyushu, a goal which was fulfilled as the course proceeded. There was much more in the way of achievement, however. Probably my greatest satisfaction was to have discovered new goals which I want to pursue further. I was 44 years old when I hit on the idea to apply for GSM, and I entered the course at the age of 45. I regret that there are only another ten or so years left before I retire, during which time I will hopefully be able to capitalize on the knowledge and skills which I gained at GSM. To be honest, I wish I had started my studies a bit earlier. At the same time, I am pleased that I took action without hesitation, immediately after hitting on the idea. I asked for a prospectus and other documents, attended an explanatory meeting, began to study English after a long interval, and filled in the application form before sitting the screening examination. When I was informed that I had passed the exam, my feeling was one that I had long forgotten. If I had failed the exam, what would have happened? Surely things would be quite different now. Today I believe that the best way to avoid regrets in life is to take action immediately after discovering something in which you are interested. I advise those who feel any attraction to GSM to take action right away and face the challenge. Those people will never feel regret later, thinking, "I should have gone to GSM. Why didn't I venture to do so at the time?" I can guarantee that those who enter GSM will never regret that decision afterwards.