Li Luxin
Class of 2020, Finance and Accounting Program
Financial IT company
The Reason Why You Chose GSM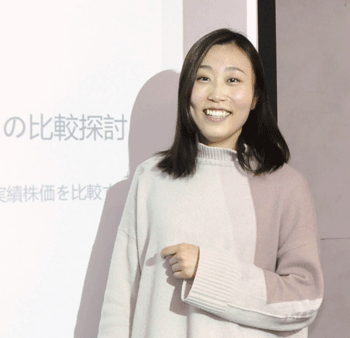 Although I studied business theory at University, I was uneasy about putting this knowledge to practical use. GSM's philosophy is "Educational system that bridges advanced management research and highly specialized practices." I chose to enroll in GSM because I thought that I would be able to learn how to connect theory and practice. GSM also has a variety of students. Ranging from new graduates to experienced professionals. There are many international students, many courses offered in English as well, and an environment where you can learn different ways of thinking. I thought that by putting myself in such an environment, I could grow greatly. Also, as a foreigner myself, Kyoto is a very attractive city. To study in such a culturally rich city was definitely a deciding factor.
What You Learned at GSM
 There was a direct correlation with business. The GSM Fundamentals course gives you the basic knowledge you need for your business, such as management strategy and finance. In addition to the specialized and practical subjects taught, industry professionals, entrepreneurs, and managers came as lecturers. Although I was in the classroom, I was able to get to experience the practical world of business. There were many captivating teachers, and it compelled me to do my best to become like them. Another great point was the ability to grow together with excellent peers. GSM is a gathering of talented people with different backgrounds. Because it is unique and different, there is value, and because of these differences it made me see what I was lacking in. Sometimes I thought that individual work was easier than working as a team, but the joy of achieving the goals together with the team was very big and fulfilling.
The Reason Why You Chose Your Career Plan
 I have been hired by a company in the Financial Information Technology field. For me as a finance and accounting graduate, the combination of Finance and IT is:
  1) My specialty plus society's future.
  2) What we have achieved so far, and what we are yet to accomplish.
Apart from choosing where to work, GSM had a positive influence on me. Classes at GSM focus on "Integration of Humanities and Sciences," and there are many classes on Information Technology as well. Studying Information Technology is the key to a successful business in this digital world. I also believe that the IT field will garner more attention in the years to come. Coming from humanities major, the idea of informatics was very novel and interesting, and that is why I decided on my course.
What Impressed You About GSM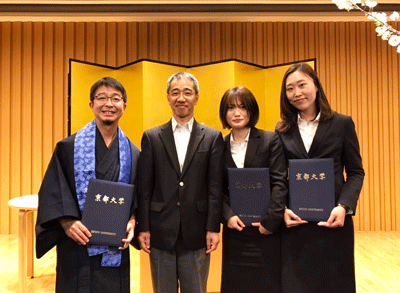 I entered Professor Isagawa's workshop (WS) from the second year of the master's course. During the workshop each student gets extensive guidance from the teacher. Also the students have the opportunity to discuss their respective research with each other. WS consists of three aspects:
  1) Lectures by industry professionals - We learned about asset management, stock and bond investment.
  2) Case studies - A financial analysis of a company was conducted by the method as an actual business.
  3) Individual Research reports - I studied the theoretical and practical differences between stock price models. At each research meeting, there was something to learn. I received advice from many people of different backgrounds, and exchanged views on their own research.
 We also had WS member outings. After Professor Isagawa's last presentation class we all went to eat sushi. It was very delicious, and felt a sense of accomplishment. It was a great opportunity to study at Professor Isagawa's WS.
Extracurricular Activities You Have Done
 Two things I did outside of classes:
1) Opening of School Festival
 The opening was mainly done by the GSM Chinese students. All the members that were involved in opening the store front had no prior experience. As such we were all very worried. Even so I wanted to make it memorable and decided to help out. Utilizing the marketing strategy learned at GSM, we devised product differentiation and pricing. The school festival ended with a bonfire. The faces of the members' cheeks were turned red by the bonfire, scenes that will never be forgotten.
2) Gourmet Tour
 Kyoto being a huge tourist attraction has many delicious restaurants other than just shrines and temples. There are many hidden delicious shops. At first glance there are many simple and unassuming shops, but once you enter the atmosphere is totally different inside. I actually made a map of all the gourmet restaurants that I visited in Kyoto. I really like Japanese yakitori and especially Kyoto's yakitori. The best yakitori I ever ate was actually in a place I discovered close to the University.
Message for Prospective Students
 I will write based on my experiences as an international student. Being part of the GSM course was very new to me as an international student. Studying in such a great old city as Kyoto which was a completely different experience as an undergraduate back home. Doing new things needs a lot of courage, but moving forward and taking a chance open new doors. As I completed the GSM course, I felt an overwhelming sense of accomplishment. GSM is comprised of many individuals from different backgrounds and needs. This course was able to provide support for every kind of requirement or need presented by the students. Which in turn provided opportunity for growth for not only the Japanese students, but international students like me as well. I believe you will be very satisfied with this course. Last but not least, I wish all prospective students a fruitful learning experience at GSM. I hope that your time spent in wonderful Kyoto will be a very memorable experience of your life.