Takashi Miura
Service and Hospitality program M2
The Reason Why You Chose GSM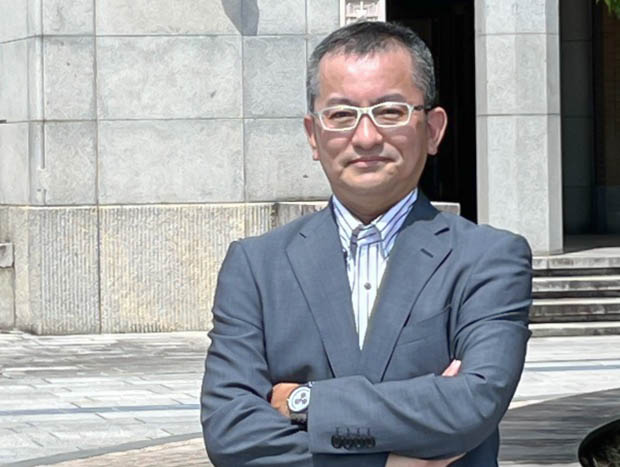 When I lived in Nagoya, I found Kyoto University's "service MBA program" on the internet and thought it would be interesting. I was vaguely thinking about going to an MBA before that. The chance to work in Osaka made me decide to live in Demachiyanagi in order to enter Kyoto University. When I took the Service MBA Program, I learned the pleasure of making new friends and relearning itself.
The reason I considered GSM only instead of going to other universities was that there were different people here in a good way and they were always challenging to the new things.
What is the attractiveness of GSM?
The professors are world-leading researchers. I was inspired by sharp comments from Professor Naoki Wakabayashi, teaching us "Service Management Theory", the shocking research theme given by Professor Yutaka Yamauchi, teaching us "Service Creation Methodology," and an attitude to research of Professor Tomoki Sekiguchi, teaching us "Organizational Behavior." And there have been lots of friends here who started businesses with some dreaming ideas. It's too much fun to be here.
The Visions of Your Future
I was able to create various service contents by using the ideas and some knowledge I learned at GSM. I would like to continue to create services that help to solve social issues.
Your Recommended Subjects
【GSM】
Organizational Behavior
Service Management Theory
Service Creation Methodology
【Graduate School of Informatics】
Special Lecture on Disaster Prevention Information
【Graduate School of Public Policy】
Digital Government Theory
Schedule of Your Day
8:00 Wake up
9:00-10:00 Start working at home and go to graduate school by bicycle
10:30-12:00 Classes (10:00-12:00, 2 hours annual paid leave)
12:00-13:00 Return home after having lunch at Rune (discussing with friends)
13:00-20:30 Start working again at home
21:00-24:30 Read textbooks and papers and work on assignments
25:30 Go to bed
Schedule of Your Week
(One week at the first week of admission)
2 basic courses per week
Specialized courses held on Saturdays
I spent the time of weekday evenings to discuss with fellow students taking the same courses, and I spent the time of weekends to participate in fieldworks and academic conferences.

Message for Applicants
I was 49 years old when I enrolled in GSM as a credit student, and turned 52 years old when I entered GSM. At GSM, there is a new world that you've never been seen or heard before in your 20s, 30s, 40s, and 50s. But you need to have a strong inquisitive mind to experience that. I think it's worth to invest your important time in here for each one of you. I recommend GSM only for those who have strong intention to get the things you want by yourselves rather than just wait to be given them. Open the door to the new world by yourself!