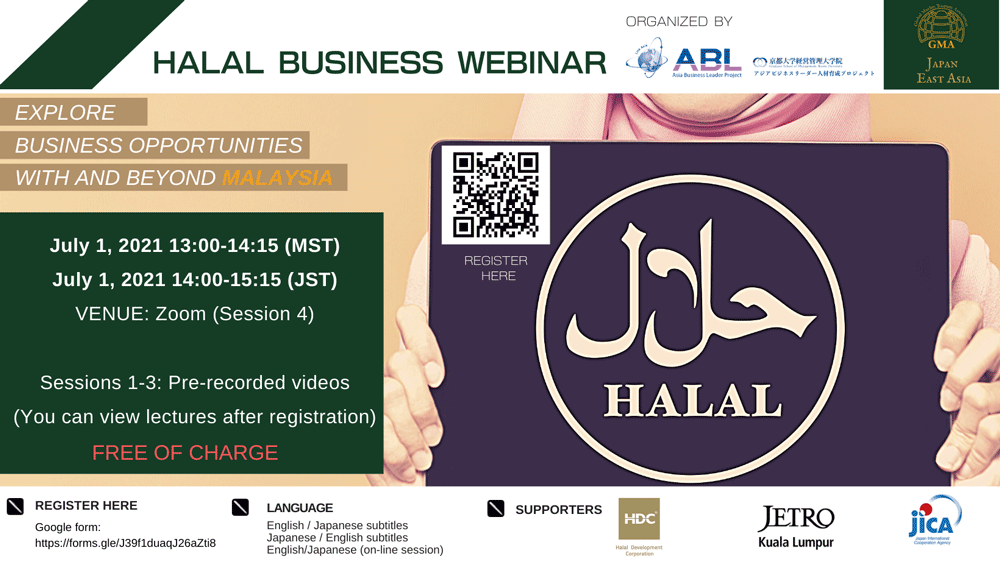 【Event Number】
20210023
This is an event to provide a point (One point).
Please register your student ID and name on the registration form.
We will recheck your attendance during the July 1st on-line session.
The submission of a report is also acceptable after watching the on-demand videos
---
【Brief Overview】
There are 1.6 billion Muslims in the world, which is an enormous market. The Malaysian government is actively promoting both foreign and domestic companies in order to become a hub for the overseas Halal market. This seminar covers all aspects of Halal as well as potential business opportunities in collaboration with – and beyond – Malaysia. This on-line seminar is open to Kyoto University students as well as the general public to share current issues and discuss possibilities for overseas opportunities in this unique sector.
Program

SESSION 1: Basic Awareness of the Halal Industry in Malaysia
SESSION 2: The Halal Industry Ecosystem in Malaysia
SESSION 3: Japan's Initiatives and Efforts
SESSION 4: Panel Discussion
(SESSION 1-3: pre-recorded videos, SESSION 4: live on-line)

Host: Graduate School of Management, Kyoto University
Co-host: Global Muslim Tourism Association (PDF)
【Eligible Person】
This on-line seminar is open to GSM students and faculty members as well as the general public to learn more about Halal business opportunities with and beyond Malaysia.
【Language】
English (14:00-15:10)
Japanese (15:15-16:00)
On-demand videos are in English w/Japanese subtitles or in Japanese w/ English subtitles.
【Venue】
On-line (Zoom)
We will provide the link in advance via email.
【Leading Person】
Distinguished Professor Kiyoshi KOBAYASHI (Kyoto University Professor, Emeritus)
Professor Tadashi YAMADA
【Admission Fee】
Free
【Registration】
Please register here at https://forms.gle/A5GHeRCzgjwygmCY7
By June 25 17:00 (JST)
【Contact】
Please contact Emi Doyle at doyle.emi.7m*kyoto-u.ac.jp (Please change *to@)
if you have any questions or require further information.