Faculty
Business Administration Chairs
Professor
Takashi MITACHI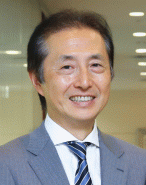 Business Leadership Program
KC-CDO Course
【Specialized Fields】

Strategy, Value Management and Risk, Leadership
【Subjects】

Managing value: strategy, risk, finance
Leadership development
【Background】

Holds a Master of Business Administration with high distinction (Baker Scholar) from Harvard Business School and a Bachelor of Arts in American literature from the University of Kyoto. Worked for JAL for 14 years and joined the Boston Consulting Group in 1993. Former member of its Worldwide Executive Committee (2006-2013) and Co-Chairman of the Japan office (2005-2015).
【Publications】

"How we can find the faint signs of coming future"
"The BCG Way - The Art of Strategic Insight",
"Being Able to Apply", "Auxiliary Lines for Management Thinking",
"Times of changes and abilities to change; auxiliary lines for management thinking 2"
【Message】

To become a sustainable value creator, insight-driven strategy development, understanding of risks, and Integrated management of strategy and finance are indispensable. This class aims to develop both knowledge and capability referring to my own consulting experiences.