Faculty
Honorary Faculty
Adjunct Professor
Senko IKENOBO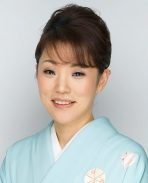 【Specialized Fields】

 Ikebana (Japanese Flower Arranging)
【Background】

Senko Ikenobo is Headmaster Designate of Ikenobo, which has a history of over 555 years and the origin of one aspect of Japanese traditional culture, ikebana. She serves as Vice Head Priest of Shiunzan Chohoji (Rokkakudo) temple in Kyoto. Senko Ikenobo's varied activities focus on life as emphasized through Ikenobo ikebana. Completed the doctoral program at Kyoto Institute of Technology. Honorary Consul of Iceland.
【Publications】

"Hana no Toki" (sole author) published in 1997 by Shufunotomo Co., Ltd.
"Ikebana to Kimono" (co-authored by Takatoshi Yajima) published in 2017 by Sankensha Co., Ltd.
【Message】

Ikebana captures large flow of time and its formative arts are based on the unique aesthetics. It can even suggests different concept of values in the modern society that we live in where we often put our priority on economic efficiency.
We consider how human being should be and experience "life" by facing the traditional culture of Japan. And we also think about universal values for the future by learning from ikebana which has woven a history of 557 years.